Ahh!! I can't believe our homeymoon trip to Greece is right around the corner! When we originally booked this trip we didn't really know much about Greece or the islands. We knew we wanted to go to 2 spots: Santorini and Mykonos. I spent a lot of time doing research and putting together an itinerary for our upcoming trip such as spots to see, the best restaurants, etc. I wanted to share on here as I read sooo many blog posts about planning a trip to Santorini and Mykonos as there is so much to see on these beautiful islands. After the trip I am going to do a blog post follow up on this one. I plan to write my reviews on the restaurants, hotels, airlines, ferries, things to do, etc!
Flights:
Try to think creative when booking your flights! Not every airport flies directly into Athens but most major ones do. Look at what airports fly directly into Santorini (like London) and see if you can find some flights that work for that!For an example- fly direct to London, stay a night and then fly direct to Santorini. It will save you the hassle of getting to the island from Athens. If you can get creative you can save some money on flights!
We fly internationally out of Boston Logan Airport but we found a great flight direct from JFK (New York). So what we are doing is flying Delta in the morning from Boston to JFK and hanging out there for a few hours (4 I think). My husband has a Delta credit card and is able to get into the Delta lounge (free food and drinks) and I am going to pay the $29 for the day pass so we can hangout in there while we wait.
We are then taking a Delta direct overnight flight from JFK to Athens, Greece and will be getting in late morning. Then to get to the island Santorini from Athens there are 2 options. The first is an 8 hour ferry and the second is a 45 minute flight. We decided on the flight because the travel day was already so long.
I did
a lot
of research on different airlines to fly from Athens to Santorini. It is hard because we are not familiar with any of them. At least in the states I know to fly Delta over Spirit airlines! There were a few airlines that had multiple flights: Ryan Air, Volvotea, Sky Express, and Olympic Air. I read alotttttt of reviews and they all said that Ryan Air, Volvotea, and Sky Express legit charge you for everything (carry on, printing a boarding pass, checked bag, etc), known for delays and cancellations, and that there carry on size is different then US carry on sizes which would mean you would have to pay for a checked bag. My husband even read that if the plane is too heavy they will ship your luggage on a ferry to you for you to get the next day. Olympic Air was the most expensive flight option and we decided to go with that just to put our minds at ease. The reviews had nothing but great things to say about Olympic and the price probably would have came out the same if we went with another airline and added up all the fees.
When it is time for us to switch island we pre-booked a ferry on
FerryHopper.com
to bring us from Santorini to Mykonos, it is about a 2 hour ferry.
Coming home is a little bit of a hassle. We are flying British Airways from Mykonos to London. We are spending a night at an airport hotel in London and taking a direct Delta flight out the next morning from London to JFK. We land in London at 9PM so my hope would be to go out for drinks and dessert in London to say we have been! Once we land in JFK we will have a few hours before we fly back to Boston.
Hotels:
My husband and I both use to travel for work and he still does and we both have the Marriott Rewards credit card so we had a lot of points saved up. We had both been saving our points for our honeymoon for soooo long! We were able to combine points and book at the 1 hotel in Santorini that accepted Marriott points, it made the decision of picking from all the hotels on the island MUCH easier!! The hotel is called the
Vedema Luxury Resort
and we are SO excited to stay there! Because we are part of the Marriott Rewards we used the awesome promo that Marriott has which is stay 4 nights get the 5th night free. It was a no brainier for us, we could use points for 4 nights and get the 5th free! It is a little south on the island but they offer shuttle services into town and there is soo much to see and do around the area too!
We used the additional hotel points to book 2 nights at
Santa Marina Luxury Resort
in Mykonos! This again was the only option which made it easier.
We are staying 1 night in London as well and used the last of our Marriott points to book at an airport hotel at the airport.
Santorini:
So we are in Santorini for 5 nights. Friday, Saturday, Sunday, Monday, Tuesday. Friday is part of our travel day so when we finally get to our hotel around 3PM we will most likely have a snack and head to bed because of the time change! There is so much to see and do I broke up the days so we can try to see almost every part of the island during our stay!
Saturday
Sunday
Our hotel as a gorgeous pool so we are going to spend the morning Sunday relaxing by the pool (I am guessing we are going to be sore/tired from our hike on Saturday)!
For lunch, we are going to take the free shuttle from the hotel to Thira to Lucky Souvlakis for the "best on the island" gyros! This place is cheap and cash only and opens at 11:30
Walking distance from lunch is an area called Pyrgos which is suppose to have very pretty paths so we are just going to explore and walk around!
We have reservations for an edge table at sunset at Venestanos Winery that I booked honestly like 3 months in advance. My co-worker told me about this place and said its the best winery there. Our reservation is from 4:30-7:30 and we will have a tour and wine tasting and then be given an edge table to watch the sunset and have apps
If we are still hungry after the plan is to ask a local for their favorite spot! I thought it would be fun to go to a place that maybe doesn't have all the hype online but has good authentic food
Monday
Monday is going to be our day where we just play it by ear and go with the flow!
Late morning I was thinking we take the free shuttle to Thira and walk to Firostefani to see the famous blue churches (which I had to google at first haha) and explore the area and paths
At night, I wanted to take the shuttle back to Thira and watch the sunset there somewhere (not at a restaurant). I read that the sunset is Thira is just as good as Oia but not as crowded
Dinner this night will be at a restaurant that we will determine that day! It doesn't have to be one with a view as we would have already watched the sunset
Tuesday
Beach day! Our hotel has a private beach on the black sand beach (bottom left of the island) that they shuttle you to so we will take the shuttle over there and either go to that beach or check out Ntomatini where you can order apps/ drinks and get free sun beds (it opens at 10am)
Once we have enough sun there we are going to take a taxi (or walk if its walking distance) to Red sand beach which is at the southern tip of the island to check it out and take some pictures
We are going to walk (I hope, if not taxi) to The Good Heart for a late lunch which is suppose to be amazing and then explore the area around there for a little and head back to the hotel
Dinner will be in Oia so we are going to take the shuttle to Thira to save $ and then take a taxi from there up to Oia (the top of the island)
The plan is to get to Oia around 5pm and explore. Reviews say to start at the restaurant named Lotza and head down towards the right to explore the most beautiful white paths
We have 7:00 dinner reservations at an edge table to watch the sunset at Skala. Our friends recommend this to us and it has great reviews as well. I made this reservation 3/4 weeks in advance
Wednesday morning is our transition day from Santorini to Mykonos. The ferry port in Santorini is all the way at the top of the island is Oia. We will probably just take a taxi straight there unless our hotel offers a free shuttle to the ferry port! Our ferry leaves at 10:50am and is 2 hours long so we get to Mykonos around 1:00pm. We will head to our hotel on the free shuttle to and from ferry port.
Wednesday afternoon/night
Explore the hotel and head to a recommended nearby restaurant! This will be a low key night.
Thursday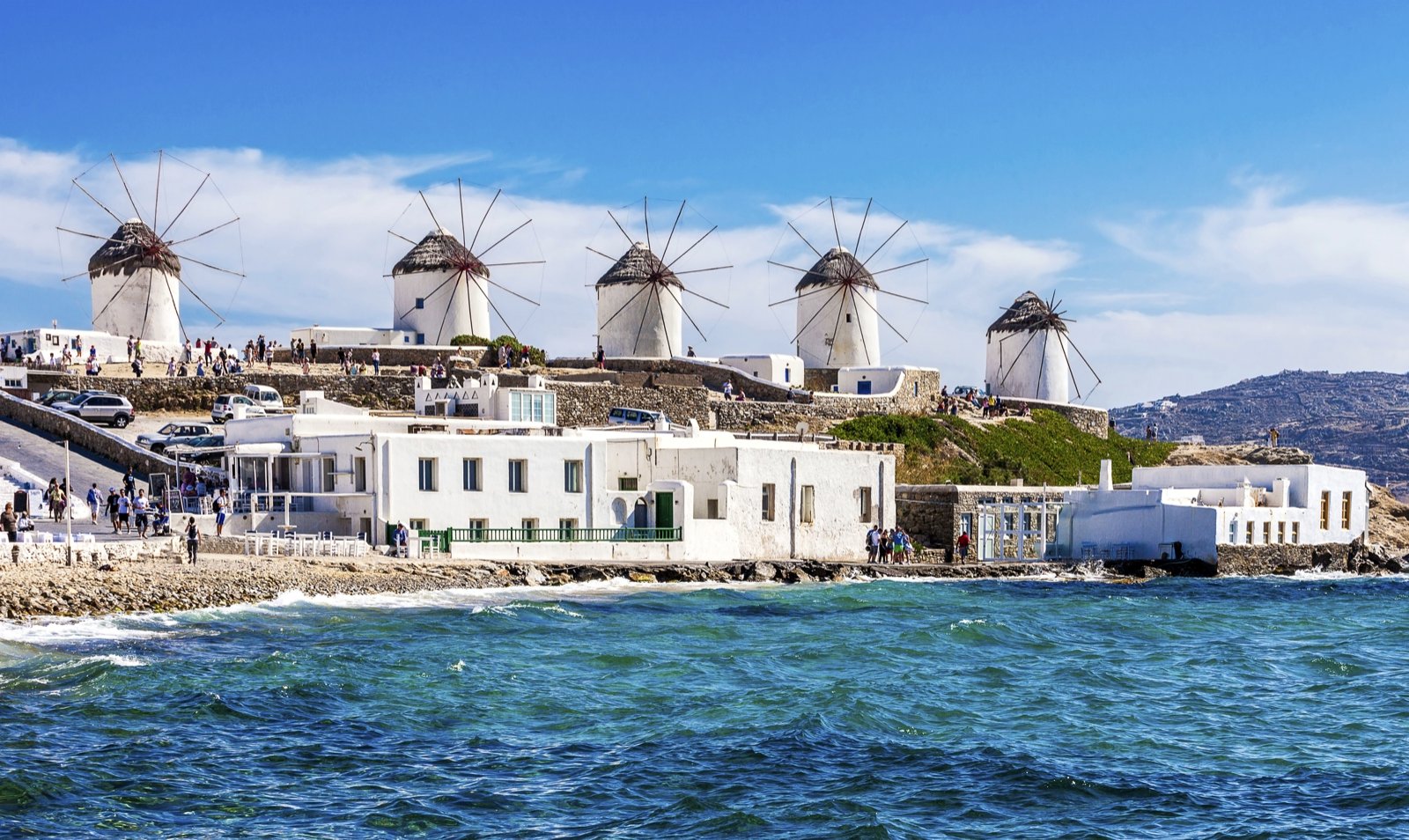 Take the free shuttle to Mykonos town and explore the area all day
Check out the Mykonos windmills (all I can think about is the Bachelorette and Hannah and Peter, LOL) and little Venice
Get lunch at Pepper which is a quick spot to get a good gyro
Dinner at Karavaki in town which is suppose to be the best in town! I called ahead to make a reservation about 2 weeks in advance for a sunset table
Check out some bars at night
Friday
This is the day we check out but we are going to hang around the hotel checked out as our flight to London is not until 7pm. I am assuming they will let us leave our luggage up front
Spend the day hanging out at the hotel at the pool and private beach relaxing
Eat lunch at the hotel or go to a nearby place
Take the free shuttle from the hotel to the airport at 4pm ish
Our flight from Mykonos to London gets us into London for 9pm. I would love to go to a bar for a drink just to say we went out in London! We will have to play that by ear as well. Our hotel is attached to the airport. Our flight the next morning is at 10am so we can sleep in a little bit!
SO that is our plan! I love putting together itineraries for vacations because you are at a spot for so little time you want to try to see/do as much as you can while having a lot of relaxation time as well. It is not something we will follow to a T but will use it as a guide to make sure we get in everything we want to! I'll do another post when we get back reviewing everything like I mentioned before but I hope if you are planning a trip to Greece and come across this you get something out of it! I did probably over 40 hours of research to figure out how to fit everything into the time we are there and to find out the best places to go (not tourist traps).
xo
Haley